French Onion Soup
I feel like it's pretty much mandatory that you order French Onion Soup when you see it on a menu. To be honest, I'd be happy just eating all the cheese, meticulously picking the crispy bits from the soup crock. But in all seriousness, a flavorful onion soup ranks up there in my favorite things in life.
This recipe is restaurant quality. I use marsala (which I always have in my pantry) to add a bit of *pizzaz*, but you can use cognac or madeira. Proper seasoning is the difference between a good soup and a BOMB soup, so don't be cheap with the salt. Feel free to make the soup base ahead of time and then just warm it up the day you intended to serve it before adding the remaining ingredients.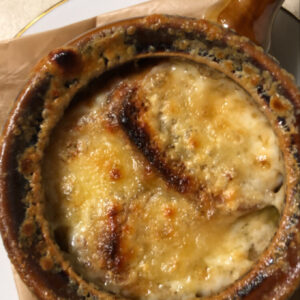 French Onion Soup
Ingredients
8 cups sliced yellow onions, about 4 medium onions
⅓ cup extra-virgin olive oil, plus more for toasting the bread
1 teaspoon salt, plus more as needed
1 teaspoon sugar
3 large cloves garlic, sliced
⅓ cup marsala
Generous pinch dried thyme or 2 sprigs fresh thyme
1 quart beef stock
1 demi baguette, sliced into medallions
8 thick slices provolone
Instructions
In a large Dutch oven, combine the onions, oil, salt and sugar.

Cook over medium-high heat, stirring very often for 30 minutes.

As the onions begin to stick to the pan and create fond or browned bits, deglaze the pan with a couple tablespoons of water. You may add as much as 1 cup over the full cooking time.

Add the garlic and continue cooking, stirring often, for an additional 15 minutes until deep amber.

Deglaze the pan with the marsala and cook until fully absorbed.

Add the thyme and beef stock and bring to a gentle simmer.

Meanwhile, preheat the oven to 400 degrees.

Lay the baguette medallions on a sheet pan and drizzle with some oil.

Bake until very crispy, for about 10 minutes.

Turn on the broiler.

Divide the soup into 4 large ramekins or soup crocks.

Place a few pieces of toasted baguette over the soup and top with 2 slices of the cheese.

Broil until the cheese begins to caramelize and blister, for a minute or two.