Limoncello
I love produce that comes straight from Italy, and get super excited when the first batch of Sorrento lemons are piled by the entrance of my favorite Italian market.  These lemons are noticeably larger than your standard lemon, and are less bitter and not as seedy either.  While you can use them for anything that you'd normally use lemons for, they are known for making limoncello.  Time does most of the work, and the reward for your patience is liquid gold!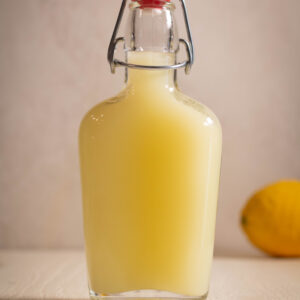 Limoncello
Ingredients
8 Sorrento lemons, or 12 standard lemons
1 1-liter bottle 195 proof grain alcohol
2 ⅔ cups granulated sugar
Filtered water
Instructions
Using a vegetable peeler, remove the skin from the lemons, avoiding as much of the bitter pith as possible. Juice the lemons and save the juice for another use.

Using a paring knife, carefully remove any excess pith.

Place the peels in a large jar (at least 56-ounces) and add the grain alcohol.

Cover and "steep" in a cool, dark location until the lemon peels are very pale yellow, for 1 to 2 weeks.

Strain the liquid and discard the peels.

In a medium saucepan, warm 2 ⅔ cups filtered water and the sugar over medium-high heat, stirring often, until the sugar is completely dissolved; cool completely.

Add the sugar water and an additional 4 cups of filtered water to the lemon liquor and stir to combine.

Portion the limoncello into bottles and allow to "cure" in the freezer for at least one week before serving.
Notes
Store limoncello in the freezer for up to one year.