S'mores Semifreddo
Someone once asked me why I was addicted to s'mores. Honestly, I rarely eat a traditional s'more. In fact, I am not a huge chocolate fan. I'd rather have some graham crackers slathered in marshmallow creme. That's why most of my s'mores recipes are light on chocolate. In this case, feel free to double up on the chocolate chips, and go crazy with the chocolate sauce if it makes you feel better about life.
If I was a basic bitch, I would've called this a no-churn ice cream cake, but the pastry chef in me won't allow that. When it comes to the toasting of the 'mallows, go to town.
You can grab my Chocolate Sauce recipe HERE!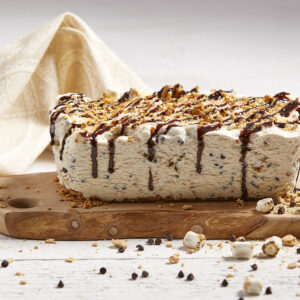 S'mores Semifreddo
Ingredients
1 14-ounce can sweetened condensed milk
1 teaspoon vanilla extract
1 pinch salt
1 ¾ cups heavy whipping cream
8 graham crackers, crumbled, divided
1 ½ cups mini marshmallows, torched, room temperature
½ cup mini chocolate chips
Chocolate sauce, for serving
Instructions
Line a 9"x5" loaf pan with heavy duty (or doubled up standard) aluminum foil on all sides. Be sure to leave a sufficient amount of overhang.

In a large bowl, whisk together the condensed milk, vanilla and salt; set aside.

In another large bowl whip the cream to stiff peaks.

Add half the whipped cream to the condensed mixture and fold to incorporate.

Add the remaining cream, half of the graham crumbles, the marshmallows and chocolate chips and fold until all ingredients are fully combined.

To assemble, scatter half of the remaining graham crumbs in the bottom of the prepared loaf pan.

Pour the semifreddo mixture into the loaf pan, smoothing out the top with an offset spatula.

Top with the remaining graham crumbs; freeze overnight.

When ready to serve, carefully pull the semifreddo from the loaf pan, using the excess aluminum foil.

Gently peel the foil off.

To serve, slice as you would a loaf cake and drizzle chocolate sauce over the top; serve immediately.